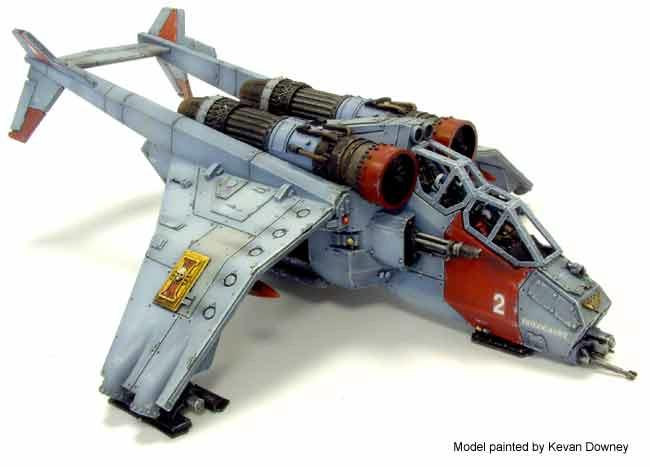 Hey Kirby!
Thanks again for the help. I've been playing this list for a while and recently made some minor tweaks to it (namely adding the Hydras and dropping a 5th Vet squad), so I'm curious for some input. It plays fairly well, usually lends itself to close fun games, so no complaints there. I'm also curious to see what the consensus is on it's "competitiveness". Thanks bud!

5th Romulan Recon & Surveillance Company aka "Creeping Death"
HQ:
Company Command Squad - Valk 1
3X Meltaguns
Officer of the Fleet
Astropath
Carapace
1X Bodyguards
Medic
Krak
Total: 210
Iron Hand
Total: 95
Elite:
Scout/Sniper Team (counts as Halflings)
Total: 35
Troops:
Veteran Squad (all with Shotguns) - Vend 2
Demolitions
3X Meltagun
PF
Total: 145
Veteran Squad (all with Shotguns) - Vend 1
Demoltions
3X Meltagun
PF
Total: 145
Veteran Squad (all with Shotguns) - Valk 2
Grenadiers
3X Meltagun
PW
Total: 140
Veteran Squad (all with Shotguns) - Vend 4
Grenadiers
Heavy Flamer
2X Melta
PW
Total: 140
FA:
Valk Squadron (2)
MRP
Total: 260
Vendetta Squadron (2)
Total: 260
Vendetta Squadron (2)
Total: 260
Heavy Support:
Manticore
Total: 160
Hydra
Total: 75
Hydra
Total: 75
Total: 2000
I usually switch how I deploy the Valks/Vends, depending on mission/enemy. Manti sets up as usual, and I use the Hydras to flank him and provide fields of fire for fire suppression. The ratlings I added in b/c I had a spare 35 points and I figured (gasp I know) it'd be fluffy to have sniper rifles. Worst comes to worst, they can either infiltrate forward somewhere to try and pin down an enemy unit / harass them, or they can chill at the home objective to contest it, freeing up the squads to grab and go. Anyway input much appreciated as always!
Roland
Not a problem Roland, sorry it took me a while to get to it.
For a fun list it's not too bad, again I think you've got a few upgrades chucked in there you don't need (mainly the CCS). I think if you shave those you can get some more cuddles in there like double up the Hyrdas. So I think drop pretty much most of what you've got in the CCS barring the meltas, the combat upgrades on the Vets (PW and PF), armor upgrades (Grenadiers) as you don't need it (Demo is good :)) and I don't think you need straken, but if you want to keep him we can. With that let's see if you can get more Hydras.
So if we take off the PW/PF, grenadiers, carapace, medic, bodyguard, kraks and officer of the fleet that gives us 210 pts to play with so we can get two more Hydras and have 60 points left. So if you drop Straken you could get another Vet squad most likely but that's up to you, otherwise maybe drop the snipers and get some Storm Troopers?
i think shaving the upgrades for more Hydras keeps the army similar but more effective, less upgrades is more in 40k :P, quite literally. I think air-cav defunks against anyone who can screen well but it's like the IG version of Slow'n'Fast so I'd say it's pretty decent competitiveness wise. It's not the best but it's pretty decent.
So what are your thoughts Roland and anyone else?