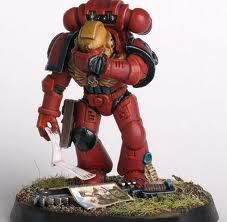 So the Marines of Space. The most common force in the grim darkness of the far future, if sales and players are any indication. Knowing their rules would seem to be a pretty relevant thing, so perhaps you want a little brush-up on the common errors.
#1: And They Shall Know No Error
ATSKNF lets you bypass most all of the rules about regrouping
except
that you still cannot do so if you are out of coherency or within 6" of an enemy. They always pass the Leadership test to regroup and are allowed to move (or to not move) normally once they do so.
#2: And They Shall Know No Retreat!
In close combat, ATSKNF functions as a slightly confusing version of Fearless. Once combat has been fought and a winner determined, if the Marines lose, they make their Morale check to hold as normal. If they fail, they receive the normal chance to escape with Sweeping Advance, and if they win, they break away from combat normally. Finally, if they have failed BOTH the Morale test
and
the Sweeping Advance rule then the normal consequences for Sweeping Advance (dying instantly) with suffering wounds as though from No Retreat! (i.e. one armor save per point you lost the combat by.)
#3: Squad Thrusts
Units are broken into Combat Squads when you deploy (or choose to reserve) them, and thus will be placed on the field or rolled for individually, as appropriate. Drop Pods are the exception to this- if you deploy a unit in a Drop Pod, you can choose to separate it into Combat Squads when it arrives.
#4: "I'll Be... Here, I Guess."
Any friendly models in a squad wearing Terminator armor prevent you from making a Sweeping Advance roll, even if other members of the squad normally could.
#5: This Isn't Where We Parked!
Drop Pods are not immune to mishaps; they will still suffer one if they scatter off the table or if your initial "this is where I want to land" spot would cause you to mishap. (You can only
reduce
the distance to avoid landing near units/terrain.) Also remember that the Pod itself landing in a valid spot does not guarantee that there will be enough room for the Marines to get out.
#6: I Have the Power
Power of the Machine Spirit doesn't allow you to move if you are Stunned anymore, and also fires its extra weapon using the vehicle's normal BS. It also lets you direct your extra gun at a separate target than all of the others.
#7: Terminator Assault and Battery Squad
Thunder Hammers reduce anyone they hit to I1 in the following combat phase; against vehicles that can't fight back, they always inflict Crew Shaken in addition to anything else a successful damage roll does. Lightning Claws, in addition to being power weapons, also reroll wounds.
#8: Point and Click (And Wait)
The Chapter Master's Orbital Bombardment can only be used if he didn't move that turn, even if he is wearing Terminator Armor. His Ballistic Skill is not applied to the result of the scatter dice, even if he has LOS.
#9: Chapter Tacticals
You only get one Chapter Tactics; you have to pick which one you get if you take several such characters. Vulkan's Chapter Tactics function differently than most of the others; you lose Combat Tactics on anyone who has it, but the bonus to Flamer/Melta/Hammers applies to any units carrying these weapons, not just units that had Combat Tactics.
#10: Grab Bag Special!
Null Zone, for all intents and purposes, cancels out Fortune with regards to invulnerable saves. Vanguard Vetrans can't run or shoot in a turn which they attempt a Heroic Intervention, and may not do so if they have an IC attached to them. Units assault from a Crusader or Redeemer get Frag Grenades. Rhinos can attempt to self-repair instead of shooting. A Force Weapon can't be "activated" to kill a model if you already used a psychic power that turn.
That's all for this time; subsequent weeks will delve into various other codices a bit. As always, questions, comments, and suggestions are welcome.