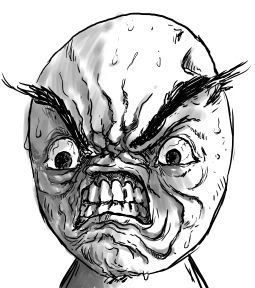 This post is a massive response to
this
discussion, which most of you will be familiar with because you were a part of it.
First of all, let me say this: I have been very impressed with the level of civility in the discussions so far. While I have no problem with a degree of profanity or joke-trash talking, it doesn't really have a place in a discussion about the relative merits of builds. I hope we can maintain this, and if anyone starts getting out of line... well, just ignore them. Some folks have been treading the borderline, though, so let's try and keep this all nice and professional. Don't tell people they suck, their opponents suck, or otherwise push this into the realm of personal insults. See the top bar? "YTTH without the bitching." Let's keep it that way.
I will start by posting parts of a very large email sent to me by 11th Company/Neil (who apparently has a podcast, which I'm not familiar with because I virtually never listen to podcasts; sorry, duder). I am not posting the full text of the email because it is actually
three
emails and is very, very long. If I have unfairly cut out something important, I hope he'll be generous and point it out to me- any such mistakes are made out of desire for expidiency, not an attempt to sabotage the validity of his opinion.
Also, to preface things, from his email:
1) Avoiding template damage is easy. All you have to do is spread out. For some straight up Theoryhammer, let's consider a Leman Russ battle tank shooting at an Ork Mob. They Ork player, not being an idiot I hope, spreads out considerably, covering most of the board I hope (especially against Mech IG). That puts every model approximately 2 inches away from each other in a scenario with a "pie plate" which is only 5 inches in diameter. At absolute best case scenario, this is 5 Orks hit. 4 wounded on average. Apply a minimal 5+ cover save from the Mek Boy (which will be there. You can never forget the Mek Boy or at least a 4+ cover save from other Orks), and you got 3 dead Orks on average. That's 18 points.. Now if the Leman Russ continues to fire.. It will take even the cheapest Leman Russ variant almost 9 turns to kill enough Orks to justify its points cost with the Battle Cannon alone. Keep this in mind. Some artillery is better and some is worse. The point is valid, though, in almost all cases. (Also, keep in mind that Leman Russ will also be invariably firing other guns which are not considered here such as Heavy Bolters. We realize that. The point is to argue the template's effectiveness.)
2) Flamers are the same way. Spread out. Easy enough. The great thing about flamers is that for most armies to use them, they must be close.. Close enough to assault and eat. This is also true of "flamer vehicles". Flamers are highly over-estimated versus Orks. It is impossible for me to explain why without a game board handy. This is simply one of those "theory hammer" situations that I cannot convince you of in writing, and you will either believe me that Ork players are not so stupid as to feed you entire Ork Mobz into a flamer pit or you won't. (Also, no tank shocking does not bunch models up for flaming. Read the rules on Tank Shocking again. This is a common misinterpretation.)
I love Orks. I do not believe Orks are the strongest army in 40K. To me that, that award unequivocally goes to the IG which I believe to be over-powered at the moment. Proof of this can be found in the codex countdown for my podcast (http://www.tangtwo.com/11thcompany). I do believe, though, that Orks are a strong army albeit not the strongest. (5th place actually :) )

I am sorry to say, but this left somewhat less inclinded towards the opinion held therin. Imperial Guard are not overpowered- they have plenty of weaknesses, not the least of which being shoddy morale and low survivability. Where I use IG in examples below, it's mainly because they are familiar to everyone and are a rather straighforward shooting army that is easy to demonstrate. Tau, the other major shooting force, are much more movement- and finesse-oriented, and thus do not lend themselves well to demonstrating the kind of brute firepower that a good list can put out. This does not mean IG are a "better" shooting list, however, as they are lacking in many areas where Tau (SW, SM, DE, Eldar) excel.





1) Second Turn Smashy

Orks aim for Turn 2 assaults. Turn 2 everything really. It is a misconception to believe that Orks cannot assault, even on foot, by Turn 2. Turn 2 assaults quite easily accomplished using the following examples:

・ Foot Infantry/Killa Kanz: (Turn 1) 6 inch move + d6 run = 9.5 inches on average round to 10. (Turn 2) 6 inch move + d6 WAAAGH! + 6 inch assault = 16 inch assault. Turn 1+ Turn 2 = 26 inches. 26 inches is greater than the "no man's land" found in most scenarios. Foot infantry are the least likely to make it in Turn 2 provided your opponent doesn't "help you" or you don't "help" your opponent into "helping you" which is more often the case.

First of all, a 26" distance should never get you into range of someone who doesn't want to be there. (The potential 32" can, but that is a rarity, not the norm.) An intelligent opponent will be deplyoing behind the No Man's Land, to give himself maximum distance, not on the edge of it. They already know you are going to be moving forward- why should they deploy forward against you? Most shooty weapons have a 24-48" range, more than enough to reach you.

Your other examples- Trukks, Wagons, Bikes, etc- are all largely valid, with one major problem: they assume that the enemy will do nothing, just sit there and take it. Blood Angels and Tyranids and all the other melee armies can make turn 2 assaults as well, but it rarely works out that way because the enemy shoots the faster elements of the force to death before they arrive. And, as I talked about in my original article, Trukks and Battlewagons are EXTREMELY vulnerable to this sort of thing.




2) Target Saturation

Target Saturation is the principle of providing so many "scary" targets that your opponent can't simply "out play" you with simple Target Prioritization. This is choosing between the proverbial rock and a hard place or "deff rolla or Meganobz" as the case may be.

There was no further explanation here. Target saturation with what? How? Against which kinds of guns? Autocannon-class weaponry, the bane of Ork vehicles, is extremely common these days- how are you achieving saturation against it? How does a split foot/mechanized force, like the one espoused by the Ork Defense Force articles, achieve target saturation when it haw two very clearly defined types of targets? The email was sadly lacking on these points.




3) Envelopment

Envelopment is the act of controlling your opponents movement by controlling the board. This is only possible with a "horde" army such as Orks. Your opponent won't get to "out maneuver" you because there simply won't be any board to which he can "maneuver" to which isn't controlled by the green horde. Envelopment also sees forcing your opponent to move. If he wants to get away, you can funnel his movements by denying him areas to move to.

The counter to envelopment is a breakthrough- annihilate one section of the enemy force and move in that direction. Your "wings" are going to be moving more slowly than the center part of your force, as necessitated by simple geometry, which gives the enemy a bit of extra time to escape along the long edge of the board.




4) The KLAW!!!!

Power Klaws are just awesome for Orks. They are cheap, plentiful, and killy. Power Klaws are generally "more" effective at killing vehicles than most guns (see chart below), kill monstrous creatures better than most tank busting guns, and kill just about everything else.

The following shows percentages to penetrate vehicles:

Nob w/ Pk
On almost any vehicle. (rear armor 10 and remember that nobz assaulting = S: 9)
45% chance to at least one penetrate. On Moved over 6
88% chance to at least one penetrate. On moved 6 or less.
99.9999% chance at least one penetrate.

45% chance of a penetrating hit means a 20% chance of destroying or immobilizing the vehicle, which are odds more in line with shooting effects. Keep in mind that you only get one of these per squad (as a general rule) and that you can't effectively engage them until turn 3-4 (meaning that the shooting will get at least half again as many chances as you, since he gets two extra turns where he can attempt to destroy a vehicle and you can't because you aren't in range yet.) And again, as I talked about in the original article, Klaws are a strategically nonviable method of destroying vehicles because they exacerbate your weaknesses to templates/blasts and can easily be shunted off to nonimportant targets by forming a transport wall in front of you, letting more valuable vehicles/infantry continue shooting.



Wait, do you mean Mek Boyz, the squad upgrade that are available to some units, or Big Meks, the HQ choice? The latter can grant vehicles a cover save; the former cannon. If you are referring to the ability of a Mek Boy to repair Immobilized results (and hence help deliver the cargo of the vehicle), remember that the repair roll is made in the shooting phase, not the movement phase, so you always lose a turn of movement no matter what.

Land Raiders have built-in cover in the form of Smoke Launchers- only for a turn, it's true, but they advance and pop smoke turn 1 and turn 2 they are arriving. (12+12+3+6 reaches most armies.) Why is this viable for a Land Raider and not for Ork vehicles? Because Land Raiders are ridiculously survivable, and Ork vehicles are ridiculously fragile. Raiders are AV14 on all sides and effectively ignore shaken/stunned; Battlewagons, the "tough" Ork vehicle are AV12 on the sides (where you will be taking most of your hits due to a long profile) and Open-Topped.




6) Stayin Powa

Orks are not an elite army. They don't worry about taking loses because they can afford to take them. This is stark contrast to MOST armies in 40K which are elite armies and cannot take losses. A good Ork army should, against all MEQ armies certainly, outnumber his opponent by at least 2.5 to 1. Usually 3 to 1. Maybe even more.

Yes, and? No one denies that Orks come in great numbers- in fact, this was part of my rebuttal, in that Trukks are unable to effectively convey the large numbers of Orks to where they need to be (having numbers equal to a MEQ army is a recipe for loss) and that the changes to No Retreat! in many ways mitigated this advantage for competent CC opponents. Whereas before a mob of 30 Boyz could expect to hold a CSM squad for at least six turns of fighting, that it much less likely now due to taking nearly double casualties for each round that they lose. With less time for the Klaw to do its work, Boyz are not as threatening.



Simply spamming Melta without its accompanying long-range support is a hallmark of poor list design. Six vet squads with triple-Melta, all in ML/HB Chimeras? Trash. Absolute garbage. Rather, it is the ten-strong Assault Squad dropping from the skies with three Melta weapons and a Priest attached for FNP- backed by Vanguard Vets, Land Speeders, etc, etc- that should frighten you.






Unfortunately, there simply is not enough room on a table to spread out an entire Green Tide army this way- even at a small 1500 pts, you are looking at well over a hundred models, each spaced 2" apart? There isn't room for that. Furthermore, at that point your firepower (and assault power) is terribly diluted- when the enemy can face down only 1-2 of your mobs at a time (by virtue of mobility), they are not hard to deal with. At that point, the frightening Ork firepower of 200+ S4 shots is reduced to a few paltry dozen, even before casualties are inflicted. And make no mistake, a mechanized (or otherwise mobile) army will easily be able to partition you off like this and take you apart- it's simply the fundamental Refused Flank strategy done in reverse, with you voluntarily evening your forces out for him. They don't need to "run to" anywhere, they simply have to concentrat themselves on one half of the battlefield (a simple matter for a half-dozen vehicles frames plus some support behind them) and carve through you like a scythe.

Moreover, your Big Mek (as I assume you mean here, since you keep talking about Mek Boyz giving cover saves) cannot possibly cover the whole board like this. Even if you string your mobs out, he will rarely be able to give more than 2-3 of them the 5+ save - and you should expect to be getting a 4+ reasonably often just from good use of terrain. In a foot army, a Big Mek is a middling choice. (Mechanized armies are another matter, but they have problems of their own. However, I will say that the Big Mek is certainly the most problematic part of an Ork SPeed Freaks force to deal with.)

While a Leman Russ will only kill ~3 Orks with its main gun, it should get 1-3 more with its secondaries, and by spreading all across the field, you pretty much guarantee that it will ALWAYS get its hits in with the large blast, since even scattering the full 9" will land on some other part of the unit (or another, nearby unit- remember, your forces must be contiguous if you're claiming the KFF save for them.) Those ~5 casualties, multiplied by his three HS slots, plus his FA slots (Valks or Vendettas, or even Hellhounds if you're having a really bad day), plus shooting from his Troops (probably another 1-3 kills per slot) adds up very quickly. Suddenly, you're realizing that the one mob of Boyz that could reach him this turn has been wiped out... and next turn he'll kill another. And another. And on any turn where you aren't threatening an immediate charge, his firepower doubles or more, since he doesn't need to move away from you.


(At this point, we transition to the second email, which talks about the original article in more depth.)




1) "First and foremost is anti-tank capabilities. All 5E armies must have the ability to deal with enemy vehicles, and do so quickly, efficiently, and with good redundancy such that even if one unit fails in its task" Agreed whole heartedly here. The problem is that we too often translate tank busting to mean "melta guns" or "lascannons" or "auto cannons" or other shooting weapons. This is applying the second fundamental. Commonly, Orks are told that "Lootas" are their only answer, and I am not a fan of Lootas. Power Klaws are the answer. They are redundant (nearly epidemic in an Ork army), more effective than any gun in most cases, and combined with Strength 4 backup swings which can glance, one could argue that every Ork model in the army provides redundant, tank destroying capability. THINKING LIKE AN ORK NOT A MARINE: A vehicle which is shaken/stunned and is not shooting is a dead vehicle. If it can't shoot, it can't hurt me and neither can the guys cowering inside who might want to use its fire points.

How are these Klaws getting to the enemy? I dispute your universal second-turn charge, and that means the enemy (even a static one) has several turns of unmolested shooting at you. I am also of the opinion that any good shooting army, left completely alone for several turns, should be able to virtually table its opponent. You MUST disrupt your opponents plans- under no circumstances can you just say "well, I'm sure my strategy will beat his if we just bash heads." This is not unique to Marines, or Eldar, or Tyranids, or Orks, or even to Warhammer 40K. In every game where you can affect your opponent's position, you must be ready to disrupt what he is doing, because you can never be sure that your strategy will work faster than his will. In rare occasions, this is the case- but Orks are not the fastest army in 40K, so they can't afford to take that gamble.




3) "it's having the availability of counters in your codex, not just your ability to respond to an enemy's plan." This is a total separate argument. We should have this one. J It's fun. I had a segment about this in one of our episodes arguing "counters" versus "specialist" armies. This has nothing to do with Orks but play style. As far as Orks go, I would argue that Orks don't need to counter you because their plan is to bury you with their own strategy, not counter yours. That being said, this is why it leads into an entirely separate debate, a fun one too. To start, it goes like this: "by stating that you need to be able to counter your opponent, that means you are committing to reacting to your opponent rather than making him react to you, which by most doctrine means you are losing." Needless to say, my answer to this is Orks are forcing you to react, not concerned with "countering" you. Totally separate conversation though.

I'm willing to have the discussion, actually- I think it relates heavily to the above point. It's not simply a matter of "My strategy is reactive and I respond to what you do" (analagous to control/counterspell decks in Magic: the Gathering), it's being able to prosecute an offensive strategy AND respond to what the opponent is doing. Good armies generally do both- for example, a Tyranid force includes shooting elements to shake/stun/immobilize enemy vehicles so they are easy prey for later assaults. Space Wolves armies, even TWC- and assault-focused ones, include Long Fangs to destroy enemy threats to their main plan. What does an Ork army do if it faces a strong CC unit that can kill its squads of Boyz, like Terminators + Sanguinary Priest, or something similar? It dies, that's what. But if a TWC army faces up against, say, Nidzilla, it can use its missiles to soften up targets or remove units that it can't otherwise deal with.

Orks are lacking because they do not have this option. Their only fire support comes from Lootas, which are not durable and can't effectively threaten many types of targets (heavy infantry, artillery in the backfield, main battle tanks, etc).




Against a melee opponent, a HammerRaider has two options: pushing forward into their lines, or hanging back as a countercharge/charge blocking unit. For the former tactic, he will send two Raiders at one "wing" of your force, disgorging their contents as they shoot and wiping the unit out via casualties and No Retreat. Repeat for the other parts of your army, since you cannot concentrate enough force at any one point to break his strategy. His support elements (like shooting) hang in the back of the field and force you to decide whether you want to try to get to them while he tears you apart or whether you will ignore them (and the damage they are causing) in favor of trying to deal with his hammer units.

If he uses them defensively, he probably has a stronger shooting component and simply holds the Raider in his lines until you approach, then dumps its contents on whichever of your units get near him first and thus clogging the approach lanes to him even further. (Other units will be hard-pressed to join the fight with 30 Orks blocking off every angle.)

With regards to Orks loving TH/SS Termies- yes, they do, and so do lots of other units, which is why a Terminator rock is normally set up 2 TH per three LC. Claws scare Orks, because those guys get four attacks striking before they do and have the same 2+ save to shrug off wounds. Klaw wounds go on the TH/SS guys, obviously, who have a pretty good chance to ignore them.




What is a threat, and where I do think you are trying to go with this is to armies which are a significant assault threat to Orks which include Khorne Beserkers, Wolf Guard, Blood Angels with FnP/FC, etc. These will destroy Ork Mobz whole heartedly. This leads to something that I also consider Orks really need: Meganobz

Meganobz roll badly to other hammer units, like anything with a Power Weapon or Relic Blade. They do not have an invulnerable save, which is a major weakness. Additionally, their lack of mobility means that the enemy can engage them as they please (and, as I talked about, Battlewagons are too easily shot down to be considered a reliable transport.)




Well, here's a basic IG list to compare to:
2 CCS w/4x Melta
2 Psyker Battle Squad (in Chimera)
1 Marbo
2 Infantry Platoons
-PCS w/AC+Sniper
-3 Infantry Squad w/AC+Sniper
2 Vetran Squads w/3x Flamer (in Chimeras)
2 Vendettas w/HB sponsons
2 Manticore
1 Basalisk
I'm sure Stelek or someone else who knows IG better would tear me to pieces for this shitty list, but it's a decent outline, and it isn't in any way specialized to beat Orks- a simple take-all-comers list. (Chimeras have ML in the turret, all vehicles have Flamer on the hull.) The list can reasonably expect to kill off 2-3 Battlewagons and basically any number of Trukks on the first turn- Vens can Scout to get side shots and carry Melta teams as needed, lots of Autocannons to do dirty work against Trukks, etc. Furthermore even assuming a simple 5 hits per large blast, it can easily kill upwards of thirty Orks per turn, even after cover saves- and rest assured, that Big Mek will be high on his priority list. If you get in close, squads can bail out of their Chimeras and send them forward to flame you down as a delaying tactic, and the two squads of Vets provide roaming flamer death to anything that approaches the lines. All of this firepower is flexible and protected, either by vehicle hulls or by sitting out of your range along the back edge of the board.






Like Flueger says, the most effective Ork lists are not "foot" or "speedfreakz". They are a combination of both.

I would also like to point out that nowhere in this discussion did we ever talk about "points levels" either. I'm not sure what points level you assume the games are being played at. 1500? 1850? 2000? 2500? Frankly, I points around 2000 because that's where I think 40k is actually fair to most armies. Some people vehemently believe that 1500 is the correct level though. It is important because I believe that Orks get weaker or stronger depending on the points level just like most armies.

I assume 1500-2000pts when talking about games, as a rule. Most people play at these point values, and below or above them the force org is very limiting (either because of required choices or because of lack of space), so they seem like the logical zone of discussion.





Battle Wagon Heavy:

HQ:

Big Mek with KFF (85 points)
Big Mek with KFF (85 points)
Elite:
Mega Nobz x 4 = 160 points
Battle Wagon w/ Deff Rolla = 110 Points
Mega Nobz x 4 = 160 points
Battle Wagon w/ Deff Rolla = 110 Points
Troops:
19 x Boyz + Nob w/ PK = 155 points
19 x Boyz + Nob w/ PK = 155 points
19 x Boyz + Nob w/ PK = 155 points
29 x Boyz + Nob w/ PK = 215 Points
29 x Boyz + Nob w/ PK = 215 Points
Heavy:
Battlewagon w/ Deff Rolla = 110 points
Battlewagon w/ Deff Rolla = 110 points
Battlewagon w/ Deff Rolla = 110 points

So what I see here is five Wagons mounting up two Nobz squads and three Boyz, with two more Boyz to hang back and take objectives (or threaten late-turn charges.) Seems reasonable? Most shooting armies are not scared of this, because you only have five vehicles. Comparatively tough ones, but still only five. At 2K points, my Tau army brings more Railguns to the table than you have vehicle chassis- and these are all twin-linked, with heavy Pathfinder support. My Piranhas will move in front of one of your Wagons, holding it frozen (and remember, I am a skimmer and thus get the 3+ save against your Tank Shock, so the Deffrolla doesn't help much.) Two BWs get lit up and pounded by my Railguns- I can strip your cover down to nothing and still get three expected hits (3+ with reroll), and with +2 on the chart, I am going to kill you. My nine Crisis scoot around for side shots on the other Wagons, perhaps stunning one of them. (If you went first, I am practically guaranteed side shots with all my Crisis, which at 9x3 shots will probably wreck you.)

So turn one, I have killed two (or four) Wagons, immobilized one, and you still have not yet dealt with my Kroot screen. Even assuming you charge into my first layer turn 2 and wipe them out, I still have another layer of Kroot protecting me and over 100 S5+ shots at you, which you are not going to survive. (I can strip your KFF down to a 6+ easily and aim at the Mek squads first, if they are in range to give benefit.) What do you think turn 3 is going to be like? At this point you probably have no Battlewagons remaining and I have evaporated your first wave of units. Your squads of foot Boyz are not yet in range of my main elements (remember, Crisis can move 12" per turn and Broaodsides are sitting on the very back line.) What can you possibly hope to do when I have smashed over half your army and you have only killed two 100pt troop units?

Another variant of the above list dropped tone BW full of Boyz and one unit of Meganobz in exchange for two units of Stormboyz. This is actually even easier, as it only has three Wagons to deal with- Piranhas block one, Railguns on the other two kill them, and Crisis (and Devilfish, etc) open up on the Stormboyz. 30 T4 units have absolutely no chance against that kind of firepower and will probably be reduced to a pitiful few members who will then fail their Ld check.

This is why I feel that it is vital that Orks have a way to deal with the enemy's plan. If, in the above examples, Lootas are included, things become more difficult. The Tau list is forced to deal with the backfield firepower while trying to stave off assaults, because the huge numbers of S7 shots will spell doom for their Devilfish (and hence ability to score) and Crisis suits.

Now we'll give Nathan some responses from the previous thread, since he raised some interesting issues there.




I think it could be better; but it certainly isn't terrible. The funny thing about defending my precious orks is that in the circles I play in, I had to for months try and convince people Orks aren't OVERWHELMINGLY better than other armies. People only played my orks if they wanted to tune up for tournaments. When TastyTaste came to TSHFT and seemed surprised I was winning with Orks, I thought he was nuts. In fact, all the things I hear about Orks sucking just makes me feel like I'm taking crazy pills. I don't know how you can look at the units and say, "Terrible." It honestly breaks my mind.

I think this is very enlightening- remember, in my first article I mentioned that a good sign of low-level play and undeveloped metagames is that there is very little agreement on what was good and what was not? This is a perfect example of that phenomenon. While in more "developed" games there are always disagreements and local quirks about what is considered good and what is not, in 40K, there is a VAST gap of differences. Are foot Eldar good or terrible? Are Nobz Bikers balanced? Which codex is the strongest? Are Dark Eldar even playable? Etc, etc, etc. There is very little agreement on even the most basic of appraisals of different units and codices in the Warhammer 40K community, and I don't think this will change until competitive play becomes more well-defined and more accepted.

It's not that the Ork units are terrible- far from it. Boyz are beautiful at 6pts each and their number of attacks, gun, and squad options make my Termagants cry every time. And yet the Termagant is generally a superior troop choice, because it comes in a codex with good support for it in other roles (like Hive Guard and Tervigons) and it fits well into an overall plan for the Tyranid army. Likewise, Nobz, Lootas, Buggies, etc, are all very competitively-priced choices for an Ork army. It is NOT bad units that make the Ork codex bad, it is LACK of important roles in the army.

Imagine, if you will for a moment, a hypothetical army. This army gets a HQ choice with A8 S4 WS5 and W4, along with 3+ armor and a Power Weapon, all for a measly 100pts. Awesome, right? And its troop choices are T5/4+ A3 WS4 BS4 and come with a Bolter, Pistol, and CCW. And they're only twelve points each! They have a fast attack version with Jump Packs, for only 3pts more and an Elites version that has WS5, BS5, and the option for Power Weapons on every member of the squad (10pts each.) This army is rockin' awesome, right? Horribly underpriced, can't be beat? No, it is absolute trash, and I'll tell you why: it has no way to handle vehicles. It doesn't matter how good the good parts of your army are if you're lacking in critical areas, and Orks are missing several of these key pieces.




The definition I saw in the article above for "top tier" lists was that it needed anti-tank, mobility, and flexibility/adaptability. I think my list has all that in spades. Do I think my list is unbeatable? No! Do I think it has a good chance against "top tier" lists? Yes!

I explained in detail in the article why I think you're lacking in several key ways. You anti-tank is very limited- one fragile squad and ~6 Missile Launchers at 2000pts. (Again, your Rokkits on the Boyz will NOT be in range until turn ~3 or so, at which point you are giving up your run- your only hope to catch vehicles- in order to try for them.)




The terminators aren't a big deal because they are predictable and don't have a great way of cleaving through a big mob. You don't do enough damage to auto-pop a unit of boyz, and then I counter assault with another one (after putting the Nob on the priest to vape him so no more FnP (and a KP!)) or a trukk boy squad or stormboyz. Fearless may suck for losing extra models, but its nicer than losing combat by 10 and needing snake eyes...

Also, those terminators would be operating solo for the most part unless you commit tiny assault squads in to help, and that's just silly.

Well, as someone else kindly pointed out for me (since I'm a BA n00b), the Priest would actually just chill inside the Land Raider and give out his bonuses. Engaging a second unit would be all but impossible until the first one is gutted, as you aren't going to be able to get any models into B2B with his Termies. (Also, he is killing ~8 models per turn of your squad, and then 8 more off of No Retreat. That will end your Boyz REAL quick.) And no matter what happens you aren't going to murder his Terminators with combat resolution, since they have ATSKNF and 2+/4+ against the resultant wounds.

They will indeed be in there solo because none of your units can reasonably expect to hurt them. Certainly poor luck might down a model or two, but he can expect to shrug off an entire squad of Boyz and only lose a single Terminator.



The reason I disagree is because winning simply proves that you were better (or luckier) than the other players. I could tell you about how I have won local tournaments and the 'Ard Boyz prelims (alright, fine 2nd place, but only because I didn't get to face the 1st place guy and came out behind on tie-breakers. :\ ) but that doesn't prove anything; it only shows that I was a superior player (or luckier) than the other people that attended that tournament. Theoryhammer is not perfect- it needs to be backed by experience enough to make its claims valid, but experience alone does not make one right. The old man saying "I've been smokin' and drinkin' for ninety years and they ain't been bad for me yet!" is not a good example to follow- just because something has worked in a specific example does not mean that it will work in the general case. That is why we make models, create theories, derive explanations for how and why things work the way they do. Simply invoking "I'm winning therefore what I'm doing is right" is not a good path.

I have never claimed your local players are terrible, whatever others may have said. But your own list does not strike me as strongly competitive for high-level play, which is the ideal that my articles are generally striving to and the specific point of the one I posted. I have gotten my face ripped apart by sub-par lists because I played badly, and it was no one's fault but my own, and a credit to my opponent for playing well. A mediocre list, played by a strong general familiar with it, will win far more games than a strong list played badly; list-building is only one element of improving your play. If you are doing well with your list, all the more power to you- but I have presented what I feel is a coherent set of arguments as to where the list has its failings and I have not seen a strong counter-argument against any of them yet.





Abuse Puppy. Where are you in OR? I'm travelling down for a tournament on the 13th-15th of August in Vancouver WA. Any chance you could come up and play a game on the 13th at the hotel (they have open gaming). I could bring this list or my 2k list (not as tuned since I've only put in 20 games with it so far), which is fairly similar.

I'm actually all the way down in Corvallis. Vancouver might be doable, but I'd have to coerce someone into giving me a ride. However, it's a possibility, and I certainly wouldn't mind meeting some other skilled Warhams from the Northwest here, so I'll definitely look into it. Can you link me to a page with info on the event?



I strongly agree here- a single game does not prove anything, which is why I find all of the "IF UR SO GOOD THEN COME PLAY MY SUPER-AWESOME LIST I'LL SHOW U!" challenges on the internet to be a bit absurd. I can't say I have any truly talented Ork players to face locally, so I expect I would certainly learn something, one way or another.

However, that doesn't change my position on Orks, nor does it change my beliefs about competitive gaming. I do think that improving list-building and theoryhammer are useful pursuits in this game, and I take myself as an example- I was once the n00b I see so much of now, despairing at Lash and Nob Bikerz and filling my Tau army with Fire Warriors. I've come a long way since then, and it's mostly because I started reading better advice and people who knew what they were talking about. A well-formulated argument with good evidence can show people the holes in their logic (or their army), if they are willing to see them.

It is not a matter of "MY DOG IS BIGGER THAN YOUR DOG," it's an admittedly-endless quest to maximize one's skills in a particular arena. There is no singular "best list" any more than there is a single "best unit" or "best person." AT the same time, not all lists are equal, and finding the best balance of elements to be combined is the very point of competitive gaming. Different players will have different styles and tilt the balance one way or the other for them, but that does not fundamentally change the essentials of strategy, tactics, and gameplay. Is it scientific? No, of course not, this is a game. But, to reference myself a bit, it is heuristic, and there's no reason we can understand the rules of the system.





I find that tournament success is much easier to quantify and explain and adapt to. I don't see how you can so readily discount them as benchmarks for list quality. My question is: if the lists you think are so superior are indeed superior; what is stopping you from winning lots of tournaments where lists like mine, which you say is terrible, win at? Shouldn't those just be free prizes for you?

Up until recently? Being a crappy player was what stopped me. I would honestly say that it was not until perhaps eight to ten months ago that I started digging my way out of being a pretty bad player. At this point, the main reason I am not winning tons of free prizes and gaining fame and fortune and sexy ladies is because my town is fairly small and I can't easily get to the big 40K events to get lots of games and practice in, much less win tons of tournaments. I managed to get to the semis in 'Ard Boyz; I am not completely awful, but I do not have the wealth of play experience that is necessary to be a truly great general. I am a better theorist and list-builder than I am player because those are skills I can hone whether or not there is someone around to play at my game shop on a given Saturday.




I know this is probably a fruitless request; but I play at TSHFT every time and its run two times a year. There's one happening this labor day weekend up here in Seattle. If you can make it, I highly encourage you to come out. Its non-comped; its all about BPs; come and prove your points. I don't mind being wrong; but I like to have it proven. ;)

Well, from the sound of things it seems like an interesting tournament that is much more down my alley than most- I will give it a shot, although between school and work I cannot promise to make it. Still, it at least seems interesting- I will have to get back to you on that.

(And hell, I wouldn't mind playing some friendly games with you; you seem like a pretty chill guy, unlike a lot of militant defenders of a particular Warham style.)




I'd really like to get a game in to either, A: learn something or B: teach you something.

Unfortunately, the only test for a real army vs army matchup is one game of each mission/deployment option (9 games), and even better playing out 3 of each (27 games). I really think that's the only way you can make an accurate assessment of an armies ability vs another, and even then you are limiting it on player skill, so you'd have to run the same 27 games again only switching generals. And even THAT doesn't cover all the variables of personal taste and how one intrinsicly understands one's own force (some armies make more sense to people than others); so you'd have to make sure both people are equally comfortable with the lists...

I think this idea of creating quantifiably superior lists is a quixotic hope that is prone to disapointment. Its an endless game of "my dog's bigger than your dog" and can't possibly expect to be scientific.




I'm fully convinced that tournament results are the only measure of a list; you both disagree. That's an impasse we'll never breach I believe.




As to the Alpha Strike argument. Again, see above. I don't think Orks are really as vulnerable to "Alpha Striking" as you might think. That being said, it's much better to do a list comparison to actually statistics and potential damage to see for certain what a smart "Alpha Strike" list will actually do in a single turn of shooting to a smart Ork player.




1) " Deff Rollas can wreck them with reasonable consistency, but they do so only by putting themselves right in the heart of the enemy formation". This is a contradiction to the notion of the hammer unit in a land raider being backed up by shooting. The landraider had to come forward to "block" the shooty element which means my Deff Rollas are not "in the heart" of the enemy line which stayed back to shoot. Doing this will sacrifice your Landraider plus its cargo to Gork and Mork in a suicide.

2) "One of the strongest "rock" armies in the game, using a Land Raider to deliver TH/SS Termies and backing it with strong shooting support or other assault elements." Terminators, especially TH/SS kind (the one's that everyone takes) are actually little threat to Orks. Thinking like an Ork, I wasn't going to get a "save" anyways against your HtH anyways. What I DO LIKE about TH/SS Termies as an Ork player is their Initiative 1. Here's a little more math hammer:




7) We Eats Da Melta Fer Breakfast

All Theoryhammer being the same, let's talk melta guns briefly. Many armies take Melta Guns to counteract the "mechanize" 5E meta game. Melta Guns are terrible versus Orks. First, they only kill one Ork a turn at best. Second, to get the desired "Battlewagon killing" effect, you have to be next to the Battlewagon.. Which means you are also next to a horde of angry greenskins who will kill your squad, their melta gun, and the transport they came in almost always out "costs" the Battlewagon they just destroyed, even with a Deff Rolla attached. Trying to melta Ork vehicles only results in two real outcomes; 1) squad suicide or 2) killing the vehicle only after it has served its purpose which is to deliver Orks and thus came close to you. Keep in mind as well that even at best, a melta gun has less than a 50% chance to kill a battlewagon because of the KFF, even if you do decide that "squad suicide" is your best option. Almost invariably, it is a losing gambit.

The second fundamental should be obvious at this point. Orks <> Marines. Duh! You can not apply your basic tactics, strategies, or MEQ meta gaming to playing Orks.

The third tenet is probably the most important for the Theoryhammerist. Positioning is key. Orks must understand positioning for multi-assaults, avoiding template damage, and envelopment. Here's some points to consider.




5) Mek Boyz

Mek Boyz are arguably the best force multiplier in the game right next to such greats as Vulkan He'stan and Eldrad. So very cheap. So very effective. Note that Mek Boyz make Battlewagons almost as survivable as a Landraider on side armor and nearly 2x as effective against front armor. Note that Mek Boyz provide cover saves regardless of what the terrain looks like, what units are in play, what direction people are moving, etc.

Case Study: Land Raider Survivability Versus Battlewagon + Mek Boy

The first assumption, and the deal breaker, is if Land Raiders get a cover save or not. Certainly, if a land raider receives a cover save, it is more survivable. What is left to Theoryhammer is if they really will or not. Will you spend even more points on your Land Raider to "block it" with vehicles? Will you assume that it blows smoke on any turn someone wants to shoot at it? Will you assume there is enough terrain on the board (usually a laughable notion at most tournaments) for a Land Raider to hide behind WHILE it moves ACROSS THE BOARD to deliver its passengers? You decide. Rest assured, I think that sometimes they do get cover saves and they sometimes don't.